Sales have started, Boxing Day Sales, End of Year Sales, New Year Sales and Winter Sales, grab your bargains today!
JUST IN! The very LATEST BeanBoozled incarnation. Meet our FLAMING FIVE!Think youre brave enough to handle the hottest peppers? Prove it with this BeanBoozled Flaming Five Flip Top Box from Jelly Belly. Each of the five flavours is made with real pepper puree, starting with the mildest Sriracha candy and working all the way up to the famously hot Carolina Reaper candy. Savor the true-to-life flavours of each bean and see just how much heat you can take.Share them with friends to see whos the biggest spice lover or save them all for yourselfits up to you!WARNING! EXTREMELY HOTConsume at your own risk. Keep out of reach of children under the age of 13, the elderly and pets.Do not consume if you are allergic or sensitive to hot and spicy foods, peppers or capsaicin, pregnant, breastfeeding or have a medical condition for which consumption of an extremely hot food could cause an adverse reaction. Due to the hot nature of this food, it may trigger asthma symptoms.Do not give to persons except with their permission, and only after sharing this warning.Pack contents are randomly assorted and may not contain every flavourADDITIONAL INFOGluten Free Gelatine Free Dairy Free Fat Free Peanut Free Certified OU Kosher WARNING: Extremely HOT!!
Best Price: £2.99 from Down Your High Street
Related Products
Jelly Belly BBZ FLAMING FIVE BAG 54G
JUST IN! The very LATEST BeanBoozled incarnation. Meet our FLAMING FIVE!Are you an adventurous eater? Add a little excitement to your next snacking session with this bag of Jelly Belly BeanBoozled Flaming...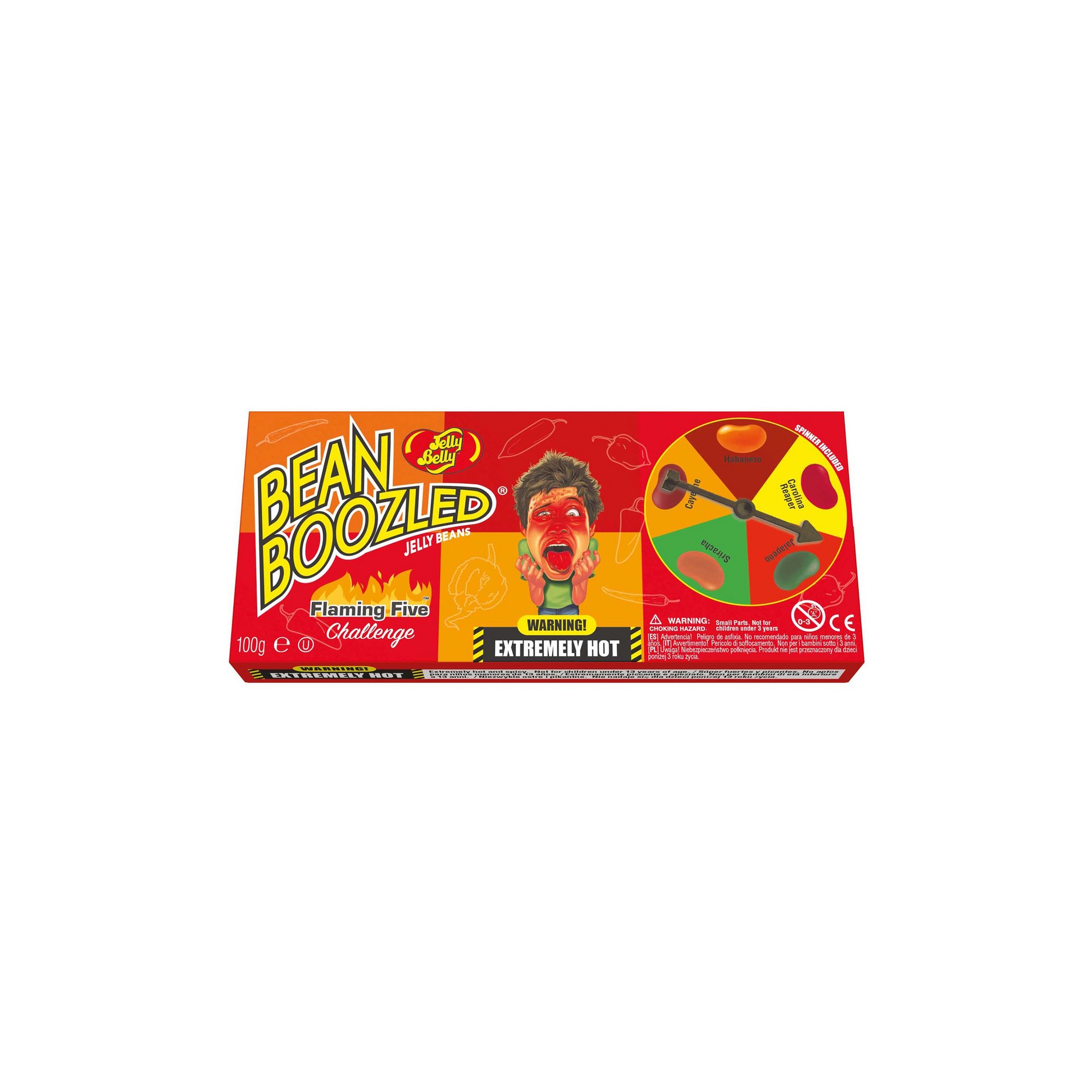 Jelly Belly Bean Boozled Flaming Five Spinner Box
Turn up the heat on any celebration with the Bean Boozled Flaming Five 100g Spinner Gift Box from Jelly Belly. This box comes with a variety of seriously spicy flavours to try, including unique options...
Jelly Belly BUBBLE GUM 70G BAG
NEW!! Bubble Gum Individual flavour 70g Grab n'Go re-sealable BagHere's one for the gum chewers among us. Think pink bubble gum that never runs out of flavour.ADDITIONAL INFOGluten Free Gelatine Free Dairy...